C'était la nouvelle importante du début d'année : Telegram, plateforme de messagerie qui comptabilise plus de 170 millions d'utilisateurs à travers le monde, aurait pour projet de se lancer dans la technologie Blockchain.
Telegram Open Network
 

Une plateforme pour cryptomonnaie et applications décentralisées

C'est dans un livre blanc de 132 pages que Telegram a définit les lignes de son projet…
Avec leur réseau ouvert pour applications décentralisées et leur propre cryptomonnaie nommée Gram, Telegram pourrait se propulser au sommet de l'écosystème en une période record, grâce à leur base déjà existante d'utilisateurs.
Telegram aurait envisagé de lever une somme de 500 millions de dollars lors de l'offre initiale, et viserait une capitalisation totale initiale de 3 à 5 milliards.
D'après TechCrunch

1 et un document déposé au SEC, le 13 février, par Telegram

2, une offre initiale secrète aurait déjà eu lieu et Pavel Durov aurait convaincu plusieurs investisseurs, dont des géants de la Silicon Valley comme Sequoia Capital and Benchmark, de lui confier la coquette somme de 850 millions de dollars.
Cette prévente ne serait que la première d'une série de ventes privées prévues par Telegram. En effet, d'après The Verge, plusieurs investisseurs potentiels auraient reçu un message de Telegram, les invitant à une nouvelle offre privée 

3. Le montant exact visé par Telegram reste inconnu, mais des sources parlent d'une levée similaire à la première ; ce qui permettrait au projet de totaliser 1,6 milliards de dollars. Les ventes publiques ne viendraient alors que plus tard. En effet, Telegram n'a encore fait aucune annonce publique vis à vis du projet TON ; et bien qu'ils n'aient aucunement démenti les informations circulant sur la blogosphère, il est claire que Pavel Durov souhaite garder le secret et avoir un contrôle total sur le lancement de son projet.
Sorry, we can not comment on that right now.

— Pavel Durov (@durov) 24 janvier 2018
Avec une ICO de 1,6 milliards, TON serait sans équivoque le projet qui aura levé le plus de fonds dans l'histoire de la cryptomonnaie.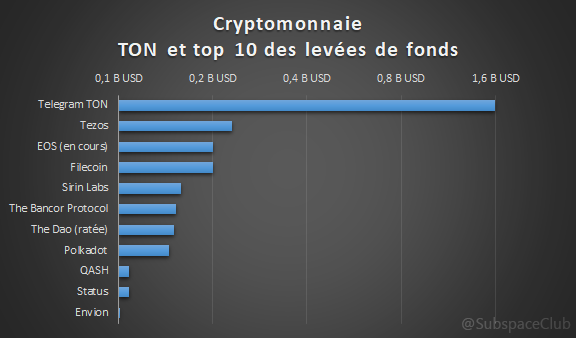 Nous mettrons à jour cet article au fur et à mesure que les informations arrivent sur le projet et la levée de fonds. En attendant, vous pouvez découvrir les détails du Telegram Open Network, notre lecture du whitepaper et notre analyse sur les implications qu'aurait un tel projet dans l'écosystème des cryptomonnaies, en lisant notre article : Telegram Open Network : Une plateforme pour cryptomonnaie et applications décentralisées.
---

Sources

Rejoignez notre groupe Telegram @SubspaceClub afin de discuter de tout ce qui concerne la cryptomonnaie et la technologie Blockchain.

Si vous aimez notre travail, vous pouvez nous laisser un pourboire aux adresses suivantes :
BCH / BTC : 1EnQoCTGBgeQfDKqEWzyQLaKWQbP2YR1uU
ETH / ETC : 0x624688e4012c9E6Be7239BeA0A575F8e41B4B3B6

Hashtags